Robert Johnson - Painted Mural for Sacred Space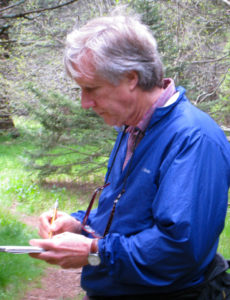 Robert Johnson – http://robertjohnsonpaintings.com/
Robert Johnson is a full-time artist currently living in Western North Carolina. He received his MFA in painting at Mills College and has studied and taught across the country. Johnson has received the North Carolina Arts Council Fellowship and has work in collections including N.C Museum of Natural Sciences, Asheville Art Museum, Morris Museum of Art, and the UNC Chapel Hill School of Law.
Living in an isolated area in the mountains, the beauty of the natural environment I was surrounded by was the biggest influence on my work.
GENEROUSLY SPONSORED
Gayle Stott Lowry - Painting on First Floor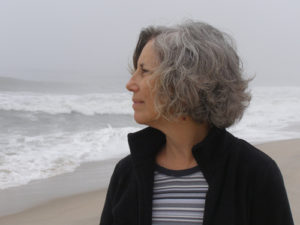 Gayle Stott Lowry – http://www.gaylestottlowry.com/
Gayle Stott Lowry is a graduate of East Carolina University and is a landscape and architecture painter based in Raleigh, North Carolina. She is featured in collections such as North Carolina Museum of Art, City of Raleigh, North Carolina State Bar, Glaxo Smith Cline, and Duke Medical Center.
"For some time my deep concern over changes in the environment has informed my work.  The theme of living with uncertainty and forces beyond our control, on a personal and collective level, has been the impetus for recent series.  Though the imagery varies according to my thoughts, imagination or travels, it is usually an exploration of the enormous affect that change and loss have on the environment depicted and those within it."
GENEROUSLY SPONSORED
Matt McConnell - Sculpture in Sacred Space
Matt McConnell – http://www.mattmcconnell.com/
Matt McConnell holds degrees in Architecture and Industrial Design from the N.C. State College of Design and has 20 years of professional experience in large-scale sculpture, architectural installation, lighting, and furniture design. He enjoys experimenting new materials and diving into everything from intimate private projects and large scale public works. His pieces are in corporate collections such as Duke Energy, NC State Bar, City of Raleigh, Form & Function, Skyhouse, Research Triangle Park, and Lenovo.
Image Credit : Christer Berg Photography 
GENEROUSLY SPONSORED
Mike Roig - Mobile Sculpture in East Courtyard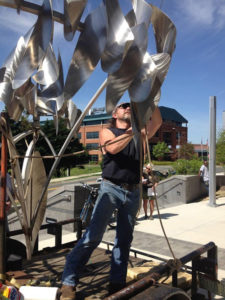 Mike Roig – http://www.mikeroig.com/
Mike Roig is a sculptor from Carrboro, North Carolina specializing in large scale outdoor installations with kinetic parts. In 1985 Roig graduated the University of Maryland concentrating in Studio Art. His public sculptures can be found in Hickory, North Carolina, Statesville, North Carolina, Harford Community College, Maryland, Durham County, North Carolina, Graham, North Carolina, and Mebane, North Carolina among many others.
"Working with steel satisfies me in a way that no other medium has. It is tough and durable, yet maleable and open to infinite suggestion. It is heavy and obdurate, and yet can be made to express delicate movements of balance and grace. It can appear earthen and solid, or be polished to light-refracting brilliance." 
Image Credit : Bull City Sculpture Show 
GENEROUSLY SPONSORED
Ann Roth - Weaving on First Floor Waiting Area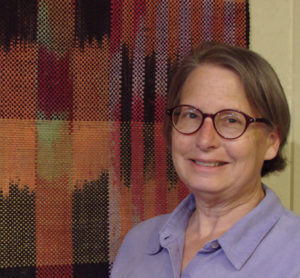 Ann Roth – http://www.annrothtextiles.com/
Ann Roth is a contemporary weaving artist and received a MFA in Textile Design from the University of Kansas. Roth taught at Meredith College from 2001-2014 and is currently a full time artist. Her work has been featured at the Gregg Museum of Art & Design and is in collections of the City of Raleigh, Levine Cancer Center and Carolinas Healthcare.
"Subtleties, complexities, the illusion of layers and depth, new colors and compositions
emerge from the basic plain weave structure. Some interactions are obvious and others become
visible upon lingering contemplation. I draw inspiration from historic and contemporary textiles from
many cultures and time periods, as well as from rhythms and hues in the natural and built landscape." 
GENEROUSLY SPONSORED
Edwin White - Installation in East Courtyard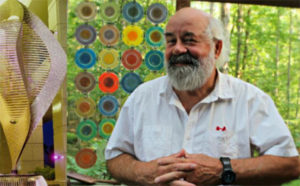 Edwin White – http://edwinwhitedesigns.com/index.html
Edwin White is a sculptor from Silk Hope, North Carolina and graduated from the University of Georgia in 1973. He is an active member of his local art community and has a wide variety of professional design experience. He is included in many corporate collections such as Trinity Capital Investment, North Carolina State Bar, Totopos Restaurant, Lord Corporation, United Therapeutics, and the Duke University School of Law.
"My most interesting and engaging sculptures are developed through problem solving.  For me, the art making process focuses on revision and change.  Therefore, my sculpture speaks to the exploration of shape and form and the discoveries that lie within that exploration." 
GENEROUSLY SPONSORED
Mia Yoon - Installation in Entrance to Conference Center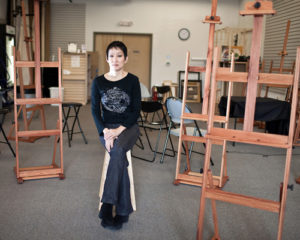 Mia Yoon – http://www.miayoon.com/
Mia Yoon is a Raleigh, North Carolina artist working with the exploration of color theory in varied spaces. Originally born in South Korea, She moved to New York and studied at the Arts Students League and Pratt Institute.
"When you look at my work, you could see my love for lines and architectural space. My formal classical training in painting at a very early age plays an important part in my work. Even though my work is abstract and conceptual, you could clearly see my appreciation for rich and pure colors and subtle tone changes to create vibrancy in my work. " 
GENEROUSLY SPONSORED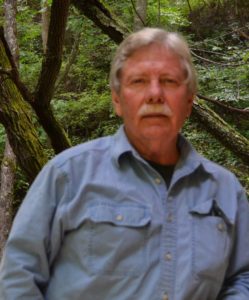 Richard Fennel – http://www.richardfennellart.com/
Richard Fennel's work is just as concerned with the formal elements of painting as he is with depicting the landscape of North Carolina. Holding degrees from both the University of North Carolina at Greensboro and East Carolina University. His work is in the collections of the North Carolina Museum of Art, the Weatherspoon Art Museum, and the Montgomery Museum of Fine Arts in Montgomery, Alabama, as well as many private collections.
"My work, as personal as it is, is basically the study of light upon form and space. In pursuits of this study, I try to merge a visual truth of what is seen with basic abstract elements inherent in painting and nature."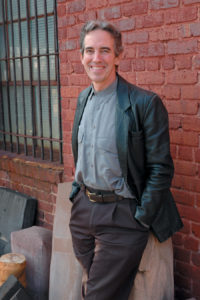 Thomas Sayre – http://www.thomassayre.com/
Thomas Sayre studied at University of North Carolina, University of Michigan, and Cranbrook Academy of Art. Growing up in the shadow of Washington National Cathedral, he developed early love and respect for natural materials. He has designed and built public art projects all over the world and has been part of the design team for civic, educational, and museum buildings.
The Maroon Bells series derives its name from an area of the Rockies near Aspen, Colorado, where seven 14,000-foot peaks form a stunning circle of jagged mountaintops. Made from capturing the energetic marks from welding "splatter" burning the white panel surface, Maroon Bells 2017-1 refers to bright sunlight hitting the gnarly bark of a birch tree against the stark white background of newly fallen snow.
GENEROUSLY SPONSORED